by producer Rob Bethke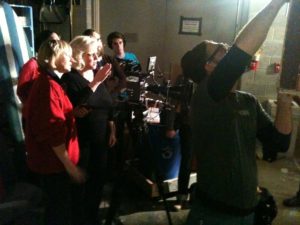 Part of the adventure of producing low-budget films is the necessity to step into many different roles—in other words, filling in the gaps in your production crew. I used to fall into the trap of imagining filmmaking as a bit of a power trip, where directors and producers impart their brilliant visions upon the crew and then sit back (sipping a latté) and watch the little workers carry out their creative wills. Of course, I would have never admitted that I expected such a thing, but it's probably there in the back of the minds of many a wannabe filmmaker. The reality is quite different, particularly when you are forging your own vision into existence without relying on an angel investor to pay all the necessary humans for their expertise and long hours of work.
This is a low-budget film production. There is no studio executive hovering over us, tweaking the script, micro-managing budgets, and constantly thinking about how this film will make millions of dollars by appealing to males 16-23 years-old. We are beholden to nothing except the vision of the writers and director. Now, there are plenty of limitations, but there is also a significant lack of stress that makes it much more enjoyable. This doesn't mean that we don't work hard, however, which is suppose to be the theme of this post—we work very hard to be team players, to care for one another, and to get the film made with professional quality.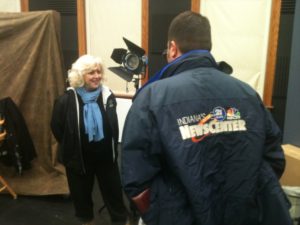 Let all aspiring filmmakers have ears to hear what I have to say! Your work ethic and positive attitude are worth much more than any specialized skills you may bring to a film project. If you want to find your way into "Hollywood" (a goal which I wouldn't necessarily recommend), or if you want to figure out how to be a part of making films, then work hard and be happy. A willingness to step into the jobs that no one else has time to do—but desperately need to be done—will win you deep appreciation from the producers/directors, who will most likely want you to be around on their next project in a larger capacity. Likewise, a person who is polite and pleasant to work with gives energy instead of taking it away from those around them. We all would rather have "energy-givers" around us!
I came to Indiana for our first shoot in January of 2012 not exactly sure what I would do with my time there. My responsibilities have mostly kept me busy with social media and web presence for Praying The Hours. But as I observed and listened to the others on the crew, explaining the challenges and needs of the production, I realized that there were gaps that needed to be filled and that I needed to step into them. One of our key producers became sick, so I volunteered to cover some of his responsibilities on set. By continuing to observe the frustrations or stress of others around me, I often saw that I had the time or energy to take tasks from them so that they could breathe easier. This kind of attitude is invaluable on any production. Those with such willingness to DO WHAT NEEDS TO BE DONE—without whining about whether it was my "job" or not—are the ones that I want working with me on film sets and the person that I try to make sure I am being when contributing to film projects. That's how you become a filmmaker.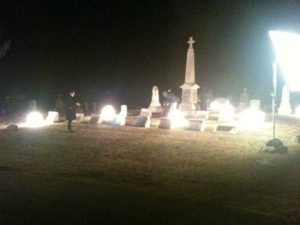 (FYI, all the pictures here are random and have nothing directly to do with this post. Just some that I grabbed on my phone during occasional breaks in production while in Indiana, from top to bottom: on the set filming Compline; Director Lauralee Farrer interviewed by local Indiana news media; Chris Min studying his lines in a cold Indiana graveyard at midnight)