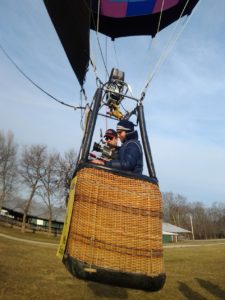 by Producer Tamara Johnston McMahon
Jordan McMahon, cinematographer (and my husband) extraordinaire, had the privilege of going up in a hot air balloon for aerial footage of Huntington, Indiana, the other day! It was his first time up and, with the Scarlet-X in hand, of course he was beyond willing. A tight squeeze, Dream Catcher Balloon Team's Chris Smart took Jordan several hundred feet up in a basket barely big enough for two, plus tripod and camera. Black helium balloons were released to test wind direction and speed before finally setting off around 4 o'clock, just in time to establish Huntington University and other key locations during Vespers (magic) hour.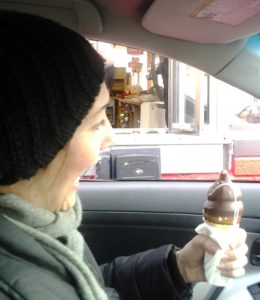 After seeing Jordan off, my friend and colleague, Lori Fox (Wardrobe & Set Design) and I drove around in the Picture car (Compline's), doubling as balloon chasers and, more importantly, subjects to be filmed. Uncertain of what to do first, we did what seemed reasonable given Jordan was having all the fun—we stopped at the local Dairy Queen for a cone (which neither of us had had since high school and that was not a few years ago!). Proud of our detour (which we later discovered Jordan was 100% witness to), Lori phoned Dream Catcher who in turn radioed Chris to sync our coordinates. We repeated this process a few times and, by Jove, I think we finally got it!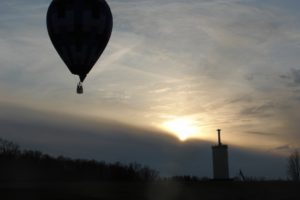 At landing, Chris and his team of balloon experts circled around and gave Jordan the balloon landing blessing, a tradition that dates back to when celebrating a good landing meant walking away from it.
"The winds have welcomed you with softness. The sun has blessed you with its warm hands. You've flown so high and so well that God has joined you in your laughter and set you back into the loving arms of Mother Earth."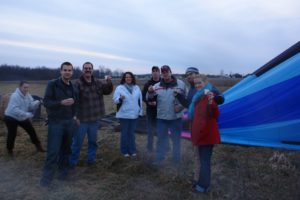 More than merely walking away, an afternoon passed that at least three of us will never forget and, at the very least, it is quite possibly the first balloon ride the Scarlet-X has ever taken. And it was on Praying The Hours!