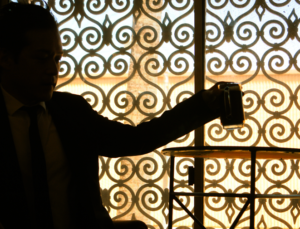 by Producer Tamara Johnston McMahon
As we fast approach principal photography for "None"—starring Aaron Ballard and Chris Min—in our production of Praying the Hours, I find that it is just as important to get in touch with the hour of prayer as it is to finalize the numerous last-minute production details (and, in some cases, maybe even more important). When nailing down locations, scheduling cast & crew, finalizing script notes, gathering props (etc, etc, etc) all seem to overshadow the very reason I signed on to make this movie in the first place. It's probably a good (if not imperative) idea to stop, breathe, and let Rilke recalibrate my sight to what's truly important. You're welcome to join me as I do this…
I love those dark hours,
those melancholy ones,
when all my senses are alert.
I have found in those hours,
like reading someone else's letters,
my ordinary life has been lived a hundred times.
It is a legend that reaches beyond me.
I realize the promise of a second eternal life.
I am like a tree that grows next to a grave
holding high in its mighty branches
the dream a lost boy once dreamt
though he lies in my roots' embrace
forever gone in sadness and lament.
—Rainer Maria Rilke, The Book of Hours, I,5
Ich liebe meines Wesens Dunkelstunden
(translated by Martina Nagel for Praying the Hours in Ordinary Life, by Lauralee Farrer and Clay Schmidt)