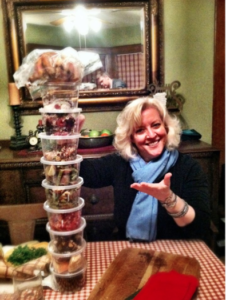 by Director Lauralee Farrer
Oh the joys of preproduction. Last week our world was rocked: our bank cancelled our accounts for random reasons even they cannot explain; insurance rates skyrocketed; our lead actor, Marcia Whitehead, has been struck with a vicious case of bronchitis and we have no idea when she will be able to come; camera equipment that was supposed to arrive on Nov 17 came just recently and the supposed Dec 1 shipment now seems like a far-away dream; the workflow of our new, magical equipment is a brain-burning challenge, and equipment that was supposed to work together, doesn't. Oh, and it's unseasonably warm. Great: we're here for the snow.
It might seem inadequate against the threat of no money, no equipment, no snow, and no actor to say that we've been blessed by hospitable hosts at Huntington University. But sometimes kindness has a mysteriously powerful effect. Huntington University has graciously given us use of 3 apartments and an empty house that is close enough to Becker Hall that J-term students can walk to the production office. We hope it will become a place for everyone to hang out after shoots. It will certainly get used—five of our team will live there, our production office and DIT will be there, and we will shoot it as one of the production locations. Julie, in the housing office, has gone beyond the pale to help us and though the furnishings we are scrounging aren't going to get us in Architectural Digest, it's definitely independent filmmaker chic.
I went to dinner last night at Janet Clark's (head of the digital media department Lance Clark's mother) and came home with enough food to sink a ship and enough stories on Lance to blackmail him for anything else we need (which would be useful if he wasn't already giving us everything he's got). Producers Matt Webb and Ron Allchin are preparing for their own trek out here and managing things from afar. Abe Martinez, Martina Nagel, and Jordan McMahon have been working to prep cameras and shooting philosophy, Michael Cioni has put the power of Light Iron at our disposal, actors Chris Min and Marcia Whitehead are diving into their characters, Rob Bethke is managing websites and press, an army of people are praying up a storm, and a few student interns are even coming back early from Christmas break!
James Taylor, in his terrific holiday album At Christmas, is singing from my MacBook Pro's inadequate speakers the last verse of "Some Children See Him":
Oh lay aside each earthly thing
And with thy heart as offering
Come worship now the infant King
'tis love that's born tonight…
'tis love that's born tonight.
Today, Christmas Day, three filmmakers—Lori Fox, Tamara Johnston McMahon, and Jordan McMahon—will arrive at FWA and then "home" to a $5 tree with a $1 star on the top, stockings hung by the couch with care and a feast worthy of the artists they are. Every production has challenges. Not every production has love. I hope you are as rich as we are this Christmas.