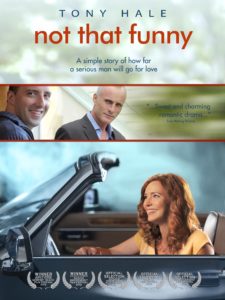 We've all had the experience of a story heard in childhood coming back to adult memory with a sudden "aha." Sometimes stories need time to percolate, time to find the listeners who are looking for them, time to ripen. A film made by many in the Burning Heart Productions extended team (though not by this production company) just recently was made available on Amazon Prime. The film, Not That Funny (that's the title, not a critique), has a surprising number of reviews, with a cumulative 4+ star rating, and—according to distribution expert Chris Bueno of Ocean Avenue Entertainment—is trending quickly upward in recent weeks. It's even being recommended on the platform alongside some other romcom heavy hitters (if a romantic comedy can be considered a heavy hitter). 
It would be a mistake to expect this little gem to be a typical romcom. It's a sweet film meant to communicate that loves comes in many forms, and that often what we think we want in a relationship is not what we are craving at all. Finished almost a decade ago (a lightyear in film distribution terms), it is a light-hearted but timeless story about the healing that comes from caring for one another—even if we think we are beyond help.
If you haven't seen it and you are an Amazon prime member, take a look here. Recommend it to your friends if you like it. It deserves to be seen, after a very bumpy release, and Chris Bueno is the guy to thank for its current rejuvenated life. We couldn't be happier or more grateful.
This Just In: Thank you Susan and Joan for your contributions to the release of Praying the Hours and for keeping the faith. (If anyone else wants to see the film or receive updates on its release, write to info@burningheartproductions.com. To contribute to its release, go here.)