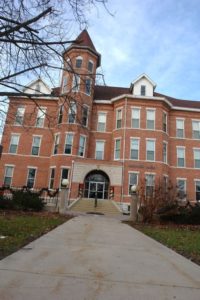 By Matt Webb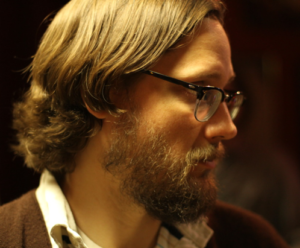 I grew up in Huntington, went to college at Huntington College before it became a university, and even worked in the admissions office at HU for a couple years at the turn of the century (I love that I get to write that!). But when I first moved to LA in 2004 it never really occurred to me that I would go back to make a film.
But a few years ago I ran into Lance Clark, the head of the film department at HU, and learned that they had a burgeoning new film program with new facilities, new equipment, and a lot of new students. Some months later I felt compelled to contact Lance and ask him if he might ever be interested in developing a relationship between a film crew from LA and students at HU. He was.
Later that day I was running errands around Fuller Seminary and I swung by Lauralee's office and said, "Hey, if you are ever interested in shooting a film in Indiana, I have a school with a film program that would be interested in partnering." And then…well…then there was "Compline"!
Returning to Huntington was more than just exciting and nostalgic. It was life giving in ways I never expected. We received such a warm welcome from Peggy Bradley and her whole team at Heritage of Huntington.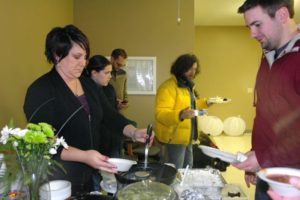 We were amazed with the generosity of Tom Clounie and Tom Gates to help make shooting at Mt. Calvary Cemetery absolutely gorgeous. Julie Hendryx and Lance Clark at Huntington University made our stay comfortable and opened doors all over campus. The students at HU worked hard, with many late nights and in some unusual circumstances (think 40 feet in the air on a lift in sub-freezing temperatures at midnight in a cemetery!).George Killian, the head of the music department at HU, agreed to play a role in the film and entertained us with his great sense of humor. My parents provided meals, housing, a pool for shooting underwater, vehicles…the list goes on. Not to mention the many, many churches and individuals (Ron Allchin and his parents, Janet Clark, Carlene Peters, Miller and Meadows dorms, Sam Ward and the drama crew at Emmanuel Community Church, Faith Community Church, Vince Haupert, the HU Admissions Office, and the 509 Community) who provided meals along the way.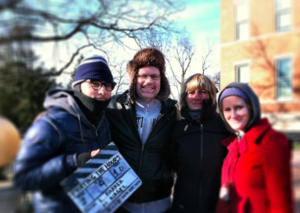 Even working with friends like Ruth Reed and local businesses like Zays Leasing and Rentals and the Rusty Dog Irish Pub was an exercise in learning generosity.
Before January I was excited to introduce my friends from Los Angeles to my hometown, let them see where I was shaped and grown, and reconnect for myself. Little did I know that the love and care of the Huntington community would be so overwhelming. I can't wait to return and do another project in the motherland!