by Director Lauralee Farrer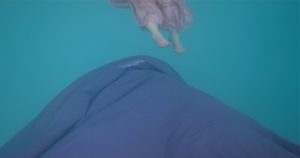 When I asked Marcia Whitehead if she'd consider portraying the character of "Compline" shot recently in Indiana, I knew that water would be involved since our story team had already decided we wanted to use water in all its forms (immersion, drinking, ice, rain, snow, etc.) as a metaphor for dreaming, so water will play a big part in the hours of compline, vigils and lauds.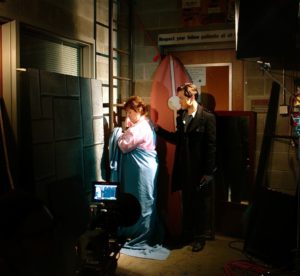 I was pleased to find out that Marcia loves the water and the opportunity to swim in it. That's good, because we did more than four underwater test shoots in the Webbs' terrific indoor swimming pool. What I was not as pleased to discover (after the fact) was Marcia's fear of ladders. She writes:
I knew when Lauralee invited me to portray the character of Compline that I would be faced with many challenges because I'm not a film actress. But I was certainly not prepared for all that I would be asked to tackle. There is a dream sequence in "Compline" that required me to climb down an iron-runged ladder, built into a concrete wall, while dressed in a floor-length nightgown and robe, wrapped in a bed sheet, and wearing 3-1/2 inch stiletto heels. I am not afraid of heights or airplanes, and tall buildings and rooftops are enjoyable places for me. Ladders—not so much. Physical strength and coordination are not my greatest assets, so it took a lot of courage to climb that ladder without begging the director to find some other way. Thank goodness for fellow actor Chris Min, who was below me with a reassuring hand on my back to ensure that I would not fall to my death by concrete floor.

Another part of the dream sequence was shot in an indoor swimming pool on a beautiful snowy day, once again in the floor-length nightgown and robe, with the bed sheet. I had to get up on the diving board backwards on my hands and knees, crawl backwards to the end and climb down into the water on a metal ladder attached to the diving board. Again, with the ladder—again, in stilettos! It took a little trial and error, but I did it—over and over and over again.
Poor Marcia! Due to a drifting focus problem with our long lens—we had to reshoot that backstage ladder again, and once again, she had to climb. I have many times said that Marcia is a good sport, is fearless, is bold, but I had no idea that a ladder would threaten her more than some of the other risks I have seen her choose to take. However, in her boldness, she overcame. She says:
When we reshot the scene of me climbing down that iron-runged, perpendicular ladder, I was on about the fourth rung before it occurred to me I wasn't remotely afraid!