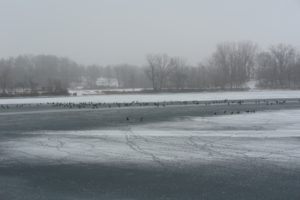 by Director Lauralee Farrer
Last year, when Tamara, Jordan and I were location scouting in Indiana, Huntington-born producer Matt Webb took us to the St. Felix Friary. A beautiful monastery that had fallen mostly into disuse (now refurbished), it still retained the bones of its former glory. We looked out on a field white with snow under a full moon that was bright enough to shoot by. We were transfixed.
The lighting scheme for the Praying the Hours project has one primary and nearly impossible goal: natural light. This is less of a challenge during the day than it is at night, of course, so we have conversations about artificial back ups, just in case the dream plan doesn't pan out. Nevertheless, we have referred to that experience so many times that it has been the standard on which we have based our dreamiest hopes. Will this camera capture natural light at night? Is that lens fast enough? Our final and most important scene takes place in a cemetery: which one would best accommodate being lit by the light of the moon, with snow?
A week or so ago, the night Lance and Mary Clark picked me up at the airport, Lance asked if I'd like to go by the cemetery. We were not actually sure when we arrived. "I think this is it," he said, squinting out the window. We had to pull up, park, and look around to be sure we were actually seeing headstones because it was so dark. We just stared into the inky black. Our idea never seemed so naïve.
Nevertheless. We are scheduled to shoot in the cemetery at Compline hour on the 9th of January by the full moon. We are praying for a clear night and for snow on the ground to act as a huge reflector. In the meantime, we're like farmers checking the almanac for all our shoot days. Will the lake freeze before we are scheduled to shoot "Compline looks out the window on a frozen lake"? Will there be snow on the ground and a clear sky for the full moon when "Compline sings by the light of the moon"? Will any of the Compline Hour shots we have planned outside even be possible?
Strangely enough, courage comes in the form of a humbling number of people who have emailed, facebooked, or texted to say they, too, are praying for a clear sky, a full moon, and snow on the ground outside Huntington, Indiana, on the 9th of January. Our loud chorus won't guarantee that it will be so: God is not our gaffer. He's our God. But he does love boldness. And we love joining together in a boldly hopeful idea.
We make our plans, we control what we can, and then we wait on God. In the long run, it won't matter the outcome—we'll get what we need. What will matter is that we believed together in our expectation that God will be found, and since it is God's intention to be found, the plan doesn't seem so naïve anymore.