by Lauralee Farrer
The first time I went to see a 70mm widescreen film at the Cinerama Dome in Hollywood, I was an adolescent, and I sat with my father on the far right side. I don't remember what film we saw, but I do remember it being good enough that I wanted to return to see the left side of it. Sometimes you get an idea for something too wide to fit in your field of vision. Seeing only portions at a time can be a mercy, though, as the entirety can be daunting.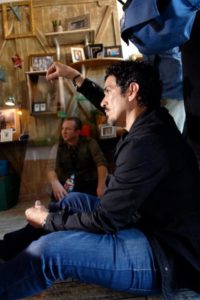 Eight producers, nine lead actors, a congregation of supporting and extra roles, many locations and shifts of people on cinematography [such as Director of Photography Abe Martinez, left], DIT, and editing—that's our ground floor. I was at an event recently where a stranger introduced himself and said, "I'm working on your movie." It's the first time that's ever happened. Once, I set out to estimate the number of locations, shooting days, actors, and pages of script that we are likely to accumulate by the time we finish. I stopped, sensing it is better to live in mystery when it comes to impossible tasks. David Mamet says, "work until it's done." That's our focus.
But here is evidence to back up our faith: a great team of producers; fantastic actors who are willing to be vulnerable beyond what a director could hope to request; one Hour shot out in Indiana (Compline); one Hour done in Echo Park (None); and the next Hour (Terce) nearly ready to go. Audio and video files are being synced for editing, equipment packages are slowly being completed, and new team members are being added weekly.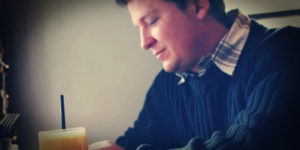 [By the way, welcome Wes Halula, right, who is working on the script for "Prime," and Glen Hall, below, who is a production design consultant.] While people float in and out of our filmmaking ecosystem, we often say to ourselves with surprise: it's happening.
A no-budget production can share, ironically, a freedom similar to a production with an unlimited budget: for us both money is no object. We cope calmly with shifting schedules, losing and gaining team members, locations, story plans, equipment, and/or finances because the biggest risk is the one we took when we set sail in the first place. It's been impossible from the very beginning, so the fact that it's getting done is like watching the experience play out in the Cinerama Dome—bigger than we can see, happening right before our eyes, can't wait to see the whole thing.