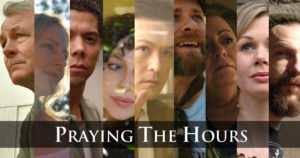 An ancient story tells of two monks, the younger searching for meaning:
Abba Lot went to see Abba Joseph and said to him, 
"Abba, as far as I can, I say my little office,
I fast a little, I pray and meditate, I live in peace and,
as far as I can, I purify my thoughts. What else can I do?" 
Then the old man stood up and stretched his hands towards heaven.
His fingers became like ten lamps of fire and he said to him,
If you will, you can become all flame."
—Joseph of Panephysis
Today marks a rebirth of Burning Heart Productions after hiatus for a few years. Throughout those years I swung like a pendulum between Abba Lot and Abba Joseph, sometimes searching, sometimes knowing. Countless hours were filled with listening as others expressed their desire to be all flame, usually—beautifully—their own unique versions of it. This in-between space of searching and knowing has come to define my own work in BHP films.
It started back in 2004 when then-opera singer Marcia Whitehead and I toured with BHP's first documentary Laundry and Tosca (view here), and we fielded after-screening Q&As with audiences that spanned 40 to 80 years of age. I began by asking for a show of hands: "Who feels like life didn't turn out the way they thought it was going to?" Everyone. Yet their questions and comments revealed that, nearly to a person, they still felt a fire in the belly for something more. Often they couldn't define what that "something" was, and for some emotional few who felt unlocked by our experience together, the fire was nearly burned down to ash. But the yearning always lingered in the embers.
BHP films reflect on this territory of the burned down ash, prompting after-screening ways to join with those who need to take the conversation further. Years of conversations with film audiences, story subjects, creative teams, angsty young mentees, burned out professionals, disenfranchised women and others have confirmed that we all require guides at different stages. There is no shame in needing counsel: where would Dante be without Virgil, Neo without the Oracle, Rey without Maz Kanata, Marlin without Dory? Some things we are meant to discover together.
Nearly twenty years later Burning Heart is known for films to watch, talk about, and think through together about such subjects as vocation, lament, eternity, time, and heartache. BHP kicks into gear again with just such a film, Praying the Hours, based on the story of Matthew Winfield Diederich (poster child for being "all flame" to those who knew him). 
The last words Matthew ever spoke to me were, "When are we going to make Praying the Hours?" It is a film he and I hoped to make together. Instead, after his untimely death, he was written right into the heart of the story as its protagonist, the Traveling Man (played by Christopher Min). The movie is dedicated to him.
Making Praying the Hours was a way to process grief too great for ordinary life. The story was a way to reimagine the ancient practice of fixed-hour prayer, observed by the Abrahamic faith traditions of Judaism, Christianity, and Islam, as a scaffolding for that grief. The Traveling Man is hit by a car and during the time it takes for him to cross over from this life to the next, he visits eight people (personifications of the Hours) from his life—seen with new eyes. He learns that eternity is not something that happens after you die, but a river that flows under the surface of ordinary life.
All these years after the crushing loss of our friend, we finally are bringing this reflection on prayer and time and loss and "love that will not let me go" to completion in the next few weeks. This blog posts today, on his birthday, in answer to his final question. Soon, Matthew, soon.
*photos by Jordan McMahon (l to r: Tim Halligan, Karla Droege, Ramsey Robinson, Elizabeth Montgomery, Christopher Min, Aaron Paul Ballard, Marcia Whitehead, Beth Castle, and David P. Frere)